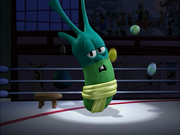 A Joking Sumo I is a song is a song from VeggieTales, and it's the second song for Sumo of the Opera.
Lyrics
A Joking Sumo, I
A lad of quips and wisecracks
Who throws his custard pies back
Where whoopee cushions lie
My shenanigans are long
Through every antic ranging
And to your humors changing
I sing my silly song!
(nose from mask inflates)
I sing my silly...
(pop)
Soonnnggg
Fun Facts
Like most of the songs, this is based on a song from Gilbert and Sullivan's "The Mikado". In this case, it is "A Wand 'ring Minstrel, I".
In the script, it stars with Scallion singing "A Joking Sumee, I". However, it was changed to "Sumo" in the final.
When Larry's nose explodes, the bang sounds slightly different in the VHS version.
Ad blocker interference detected!
Wikia is a free-to-use site that makes money from advertising. We have a modified experience for viewers using ad blockers

Wikia is not accessible if you've made further modifications. Remove the custom ad blocker rule(s) and the page will load as expected.