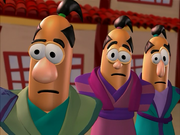 A Sumo Can't Go Wrong is a song is a song from VeggieTales, and it's the fourth song for Sumo of the Opera.
Lyrics
A Sumo Can't go wrong
When he keeps on keepin' on Put up a fight For what is right-- Don't quit until you're done
Until that final bell
God loves it when we finish well... So don't quit stop
Just keep on keepin' on! (2x)
Fun Facts
This is the only song that was used that was not based off a song from "The Mikado".
Ad blocker interference detected!
Wikia is a free-to-use site that makes money from advertising. We have a modified experience for viewers using ad blockers

Wikia is not accessible if you've made further modifications. Remove the custom ad blocker rule(s) and the page will load as expected.