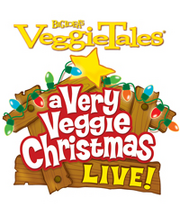 A Very Veggie Christmas, Live!
 was the Third 
VeggieTales Live!
show. It was produced in 2006 tour year as well.
Plot
Junior Asparagus is making his directorial debut. He is very excited to share the meaning of Christmas as he attempts to direct the rest of his Veggie pals in a fantastic Christmas Pageant. The rehearsal quickly goes from traditional to out-of-hand with Christmas lights, Lions, and Pizza Angels, while a secret project of Pa Grape's nearly brings down the house, literally. Will Junior be able to keep the crew together and show the world the true meaning of Christmas? Find out in A Very Veggie Christmas, Live!
Fun Facts
Gallery
Ad blocker interference detected!
Wikia is a free-to-use site that makes money from advertising. We have a modified experience for viewers using ad blockers

Wikia is not accessible if you've made further modifications. Remove the custom ad blocker rule(s) and the page will load as expected.