And Now It's Time for Silly Songs with Larry: The Complete Collection is a 2-disc set featuring 35 Silly Songs to celebrate the 20th Anniversary of VeggieTales and BigIdea.
Songs
(Silly Animal Songs)
(Silly Dance Songs)
(Silly Food Songs)
(Silly Me Songs)
(Silly Christmas Songs)
(Silly People Songs)
(Songs About Silly Places)
(Silly Stuff Songs)
Fun Facts
Trivia
Goofs
Gallery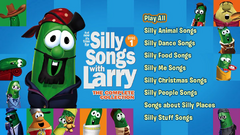 Ad blocker interference detected!
Wikia is a free-to-use site that makes money from advertising. We have a modified experience for viewers using ad blockers

Wikia is not accessible if you've made further modifications. Remove the custom ad blocker rule(s) and the page will load as expected.