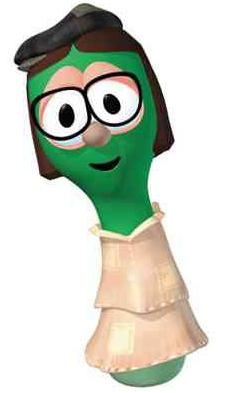 Annie
Species: Green Scallion
Hair color: Brown
Annie is a young girl who is friends with Junior Asparagus and Laura Carrot.
Bio
In her first appearance, her grandfather was telling some stories before she went to bed. Annie suggested she wanted to hear another story, which her Grandpa George decided to tell about what happened in Dinkletown.
She later appeared in Madame Blueberry, where she was having a birthday party and was thankful for everything she had in spite of living well below the poverty line, just when the French blueberry was starting to learn about thankfulness.
In later appearnces, she is seen with the other veggie kids.
Personality
Physical Appearance
Annie is a green scallion with brown hair, a pink nose and wears a pair of glasses.
Voices Actress'
Fun Facts
She is the first character to be voiced by a young family member of the staff.
There's been debate about her last name:
She was seen without glasses in the dream sequences in Bully Trouble, though it might've been an animation error. Then she was seen without them again in the story of George Mueller.

It might be possible she uses contact lens at times.
Ad blocker interference detected!
Wikia is a free-to-use site that makes money from advertising. We have a modified experience for viewers using ad blockers

Wikia is not accessible if you've made further modifications. Remove the custom ad blocker rule(s) and the page will load as expected.