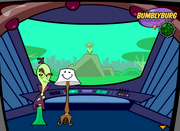 Awful Alvin's Lair is located underneath the green grass of Bumblyburg Park where Sir Lester Bumbly's statue currently resides.
The underground lair is where Awful Alvin and his sidekick Lampy reside and where he formulates plans to cause mischief and mayhem! The carevnous tunnels are the perfect place for Awful Alvin and Lampy to hide from Larry-Boy.
It only appeared in LarryBoy and the Angry Eyebrows.