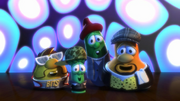 Boyz In The Sink
(Also known as simply
BITS
)is a boy band from
VeggieTales
.
Bios
The band includes:
Khalil often shows up, though it's debatable if he's actually part of the group.
They came out with on album, "Boyz in the Sink", which featured remixes of past VeggieTales songs and some original songs as well.
Songs
Christmas Sizzle Boy
Easter Bunny Hop
Boyz in the Sink
The B-O-Y-Z Dance
The Funky Polka
Cheeseburger
Fun Facts
Their name comes from the 1991 film "Boyz in the Hood".
Gallery