Editing Bruce Onion is cancelled until futher noticed. Archibald cancelled editing Bruce Onion to protect vandalism or other such issues and deleting this page.
If you don't think this page should be protected. Please discuss any changes to Bruce Onion or remove the protected tag.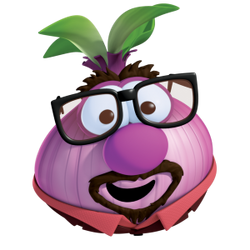 Bruce Onion
Species: Onion
Hair color: Brown
Bruce Onion is a real estate tycoon and a very good tuba player.
Bio
Early in his life, Bruce was a master of playing the tuba. In 1974, he was planned to play his solo act after the Groovy Brothers were finished. But because the music group was playing more than a few hours, he never had the chance to perform.
Sometime after that, he became a very wealthy tycoon, but he never let go of his grudge what happened years ago. His plan was to buy the property where Celery Park resides and demolish it so he could have his revenge. The Groovy Brothers didn't know he wanted to play, so they invited him to joined the band. Bruce was surprised and amazed! He finally got to play his tuba... this time with The Groovy Brothers! He forgave them for ignoring him and joined in. He then decided to use his own money to restore and improve the park.
Fun Facts
Many of Bruce's puns were ad-libbed by
Terry Crews
.