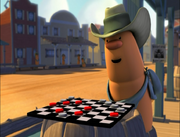 Checkers is a board game that also had some appearances in VeggieTales.
Appearances
Fun Facts
One of the major issues that the crew pointed out on the commentary track is how the player pieces aren't in the respective squares. Brian Roberts later fixed this problem during production on Moe by redesigned the whole board and gave the animators a gaming map on how the pieces should move.
Ad blocker interference detected!
Wikia is a free-to-use site that makes money from advertising. We have a modified experience for viewers using ad blockers

Wikia is not accessible if you've made further modifications. Remove the custom ad blocker rule(s) and the page will load as expected.