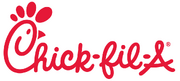 Chick-fil-a is a American fast food restaurant chain found in 1946 and headquartered in Atlanta, Georgia.
They're famous for their chicken sandwiches.
Involvement with VeggieTales
Because Chick-fil-a is run by Christians, there were various advertisements they did to promote VeggieTales over the years.
In 2006, they released four promotional CDs on their kids' meals that include a segment and a song from the show.
They also did other CDs for 2010 and 2012.
External link
Ad blocker interference detected!
Wikia is a free-to-use site that makes money from advertising. We have a modified experience for viewers using ad blockers

Wikia is not accessible if you've made further modifications. Remove the custom ad blocker rule(s) and the page will load as expected.