"Besides being so delicious, chocolate is also very interesting. Did you know chocolate was invented by the Mayans thousands of years ago?"
— The Bad Apple; LarryBoy and the Bad Apple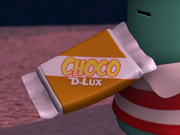 Chocolate is a type of candy that is typically sweet, usually brown, food preparation.
As stated by the Bad Apple, it was invented by the Mayans many years ago when they used cocoa beans.
Because it is a very common sweet, it is often mentioned a few times in the Big Idea universe.
Appearances
Ad blocker interference detected!
Wikia is a free-to-use site that makes money from advertising. We have a modified experience for viewers using ad blockers

Wikia is not accessible if you've made further modifications. Remove the custom ad blocker rule(s) and the page will load as expected.