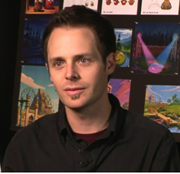 James Chris Wall (credited as J. Chris Wall, shortened as Chris Wall) (born September 26, 1974 in Houston, Texas) is a American producer at Big Idea.
He joined Big Idea around 2004/2005 during production of Minnesota Cuke and the Search for Samson's Hairbrush as editor. Then he became producer after John Wahba's return to the company.
He and Brian Roberts worked on "Stalling" in 2009.
Voices
Works at Big Idea
Ad blocker interference detected!
Wikia is a free-to-use site that makes money from advertising. We have a modified experience for viewers using ad blockers

Wikia is not accessible if you've made further modifications. Remove the custom ad blocker rule(s) and the page will load as expected.