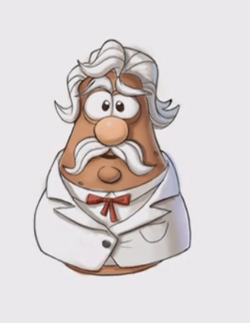 Clark Wayne
Species: Potato
Hair color: Grey
Clark Wayne was a rejected character in VeggieTales.
He was originally meant to be the narrator for Tomato Sawyer and Huckleberry Larry's Big River Rescue.
Appearance
Clark is a brown potato with grey hair.
Reason why he was cut
According to Brian Roberts, he had difficulties trying to find the right voice for Clark. The role of Clark Wayne was then given to George.
Ad blocker interference detected!
Wikia is a free-to-use site that makes money from advertising. We have a modified experience for viewers using ad blockers

Wikia is not accessible if you've made further modifications. Remove the custom ad blocker rule(s) and the page will load as expected.