Cuke of All Trades!
Director(s)
Producer(s)
Writer(s)
Music by
Released

August 27, 2002

Previous episode
Next episode
Cuke of All Trades! is the second LarryBoy Super Short.
Plot
It is a very quiet Tuesday in Bumblyburg, especially since it's Larry-Boy's birthday! The plunger-headed hero decides to go to Mr. Mahoney's bakery to see if anything special is happening, though the only thing he has to do is to deliver some letters and no one can watch over his shop. Larry-Boy agrees to help out, so Mr. Mahoney leaves and tells that him to help out anyone if they need anything.
Fun Facts
Explanations
The short's title is a take on "Jack of all trades, master of none".
Remarks
The title card depicts Larry-Boy in different suits (representing jobs), which he never did any of them in the short.
Gallery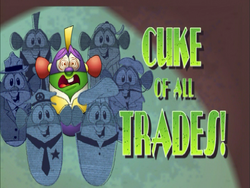 Ad blocker interference detected!
Wikia is a free-to-use site that makes money from advertising. We have a modified experience for viewers using ad blockers

Wikia is not accessible if you've made further modifications. Remove the custom ad blocker rule(s) and the page will load as expected.