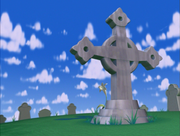 Despite being kid friendly, the Big Idea universe would often deal with deaths.
These range from a character's death or near-death, to imagining or behaving as though a character has died.
Appearances
VeggieTales
3-2-1 Penguins!
Trouble on Planet Wait-Your-Turn - Jason first said it when he and Michelle were upstairs. He also said this when everybody was trying to get inside the Rockhopper by cutting in front.
The Doom Funnel Rescue! - Zidgel yells it when they were approaching the gas station with the tank.
VeggieTales in the City
Other
Frog Wars - One of the sections of the library is "Never Say Die".
Ad blocker interference detected!
Wikia is a free-to-use site that makes money from advertising. We have a modified experience for viewers using ad blockers

Wikia is not accessible if you've made further modifications. Remove the custom ad blocker rule(s) and the page will load as expected.