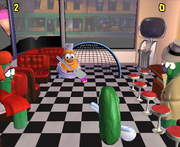 Donut Hockey was an online game from the official website.
Plot
Jimmy Gourd likes to pass the time in his ice cream shop with some fun and games. It's time to play donut hockey!
How to play
Move the mouse to help Larry block the donut and bounce it into Jimmy's net. The first one to 10 points wins!
Fun Facts
The music playing in the background is the beginning part of God is Bigger.
The game possibly takes place after the events from The End of Silliness?.
The game is no longer available after the website was revamped. However, the game can still be found at Internet Archives.

It can also be founded on the DVD Rom of Sumo of the Opera, but the music stops for a second.
External links
Ad blocker interference detected!
Wikia is a free-to-use site that makes money from advertising. We have a modified experience for viewers using ad blockers

Wikia is not accessible if you've made further modifications. Remove the custom ad blocker rule(s) and the page will load as expected.