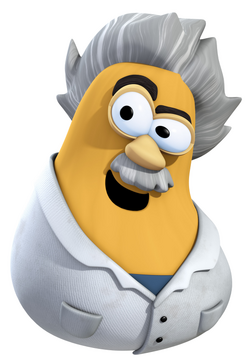 Dr. Flurry
Species: Gourd
Hair color: Grey (Black for eyebrows)
Dr. Alvin Flurry is a Swedish scientist and the (former) main antagonist of The League of Incredible Vegetables. He freezs Bumblyburgin fear.
Bio
Dr. Flurry is a scientist who used to work for Bumblyburg, but got arrested after he started "Grand Theft Gelato" (where he stole all of the ice cream in July).
Filmography
Fun Facts
He is the first villain in the main Larry-Boy series to get arrested, as well as the first villain in the entire series to reform himself, but just before his defeat.
According to Mike Nawrocki, he wanted Flurry's theme to be somewhat like the Addams Family feel with a harpsichord.