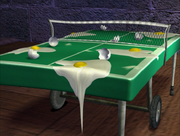 Eggs
are round white objects that come from chickens. They're usually contain a baby chick, depending on the egg itself. But they're mostly used for eating, since it contains a lot of protein.
There are other types of eggs that are made of plastic. These ones are used for Easter.
Appearances
VeggieTales
3-2-1 Penguins!
Trouble on Planet Wait-Your-Turn - When Zidgel tells Jason that the galaxy waits for no man, the screen shows fried eggs instead.
Wise Guys - After the effects of the time machine sending the Rockhopper crew in the not-so-distant future, it also made Kevin deage for some strange reason. This eventually turned him into a egg!
LarryBoy: The Cartoon Adventures
The Good, the Bad, and the Eggly - Awful Alvin, Greta Von Gruesome, and Lampy steal The Bumblyburg Science Labs' Over-Easy Egg Ray, which can turn any inanimate thing into eggs.
Gallery
Ad blocker interference detected!
Wikia is a free-to-use site that makes money from advertising. We have a modified experience for viewers using ad blockers

Wikia is not accessible if you've made further modifications. Remove the custom ad blocker rule(s) and the page will load as expected.