Fly By Might
Director(s)
Producer(s)
Writer(s)
Music by
Released

March 16, 2002

Runtime

7 minutes

Previous episode

N/A

Next episode
Fly By Might is the first LarryBoy Super Short.
Plot
Mild-mannered Larry is relaxing outside his mansion and planning to snooze until a fly lands on his nose. He gets annoyed about this, so he plans to get rid of it. Larry tried to use bug spray and a water hose, but this backfired. So he puts his Larry-Boy gear on and uses his plunger ears to catch it, only to stick himself with a truck and hits himself. Larry-Boy launches a frog out of his belt, but the frog hopped away. He then uses a vacuum, which gets damaged due to a pillow getting stuck.
Finally, the cucumber of steel gets on the LarryMobile and uses it run over the fly. But it topples over when the fly put it's leg out. LarryBoy decides to turn it into the plane mode and uses the plungers underneath to pull a part of land with the fly. Unfortunately, the LarryPlane can't carry the piece, which then plummets towards the ground. He survives, but he was tired out and the fly relaxes it's day on top of LarryBoy's head.
Characters
Fun Facts
Trivia
Goofs
Larry-Boy's nose vanishes after the vacuum explodes, but he regains it in the close-up.
Gallery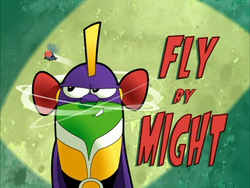 Ad blocker interference detected!
Wikia is a free-to-use site that makes money from advertising. We have a modified experience for viewers using ad blockers

Wikia is not accessible if you've made further modifications. Remove the custom ad blocker rule(s) and the page will load as expected.