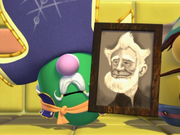 George Mueller (born September 27th, 1805 - March 10th, 1898) was a a Christian evangelist and Director of the Ashley Down orphanage in Bristol, England.
He passed away on March 10th, 1898.
Episode appearnce
While he never appeared in VeggieTales, Archibald protrayed George Mueller in the segment about him in Gideon: Tuba Warrior.