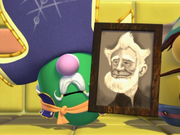 George Mueller (born September 27th, 1805 - March 10th, 1898) was a a Christian evangelist and Director of the Ashley Down orphanage in Bristol, England.
He passed away on March 10th, 1898.
Episode appearnce
While he never appeared in VeggieTales, Archibald protrayed George Mueller in the segment about him in Gideon: Tuba Warrior.
Ad blocker interference detected!
Wikia is a free-to-use site that makes money from advertising. We have a modified experience for viewers using ad blockers

Wikia is not accessible if you've made further modifications. Remove the custom ad blocker rule(s) and the page will load as expected.