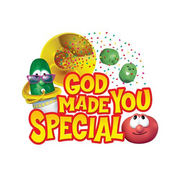 God Made You Special was the Sixth VeggieTales Live! show. It was produced in 2012 tour year as well.
Plot
Something has gone haywire at the Silly Song Warehouse - and one of the beloved VeggieTales silly songs is missing!! Join Bob, Larry, Junior and the whole gang as they attempt to solve the mystery of the Silly Song Swindler while singing and dancing to a truckload of silly songs! Featuring top Veggie fan favorites including "Oh Where Is My Hairbrush", "God Is Bigger Than the Boogie Man", "The Pirates Who Don't Do Anything", and many more, this high energy show will delight children and remind them that God made them special and loves them very much - no matter what!
Songs
Act 1
Act 2
Pants (from Sweetpea Beauty)
Walking on Sunshine (from Bob and Larry Sing the 80's)
I Am A Promise (from VeggieTales Worship Songs)
VeggieTales Finale Theme Song (Live Show)
Fun Facts
Gallery
Ad blocker interference detected!
Wikia is a free-to-use site that makes money from advertising. We have a modified experience for viewers using ad blockers

Wikia is not accessible if you've made further modifications. Remove the custom ad blocker rule(s) and the page will load as expected.