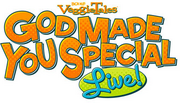 God Made You Special Live! was the Fourth VeggieTales Live! show. It was produced in 2008 tour year as well.
Plot
Join Bob the Tomato and Larry the Cucumber during a filming of their show to see what happens when the cameras stop rolling. Get a sneak peek behind the scenes during an exclusive visit to the VeggieTales Sound Stage! But what happens when Bob mysteriously disappears and the sleuthing begins?
The whole gang will have to come together to crack the case of the missing Tomato in true Veggie style. Along the way there's always time for disco, skirts made of pizza, and a few fun surprises. Through this crazy journey, can the Veggies learn the value of each others differences and find that God made each of them special? Find out when Big Idea, Inc. presents God Made You Special, Live!
This fun-filled show stars Bob and Larry joined by Veggie pals Jimmy and Jerry Gourd, Junior Asparagus, Pa Grape, Archibald Asparagus and Mr. Lunt. The show also features lots of singers, dancers and new friend Hazel, as well as the return of Jessie, who performs and helps host the show while teaching Bob and Larry some valuable lessons along the way. Highlighted musical selections include classic silly songs such as "His Cheeseburger", "Pizza Angel," and "The Water Buffalo Song," brand new performances of "The Lion Sleeps Tonight," "Proud Mary," and "Shout!," plus all-time favorites like "God Is Bigger Than the Boogie Man," and an all-new, never-before-heard version of the famous VeggieTales theme song!
Songs
Act 1
Weird-a-Meter
Power Outage
Joshua Fought the Battle of Jericho
Act 2
Boom, Boom Ain't It Great to Be Crazy?
The Lion Sleeps Tonight
Car Wash
Proud Mary
I Am A Promise
Trivia
Gallery
Ad blocker interference detected!
Wikia is a free-to-use site that makes money from advertising. We have a modified experience for viewers using ad blockers

Wikia is not accessible if you've made further modifications. Remove the custom ad blocker rule(s) and the page will load as expected.