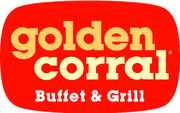 Golden Corral is an American family-style restaurant chain serving breakfast, lunch and dinner, and featuring a large buffet and grill offering numerous hot and cold dishes, a carving station and their Brass Bell Bakery. It is a privately held company headquartered in Raleigh, North Carolina, United States, with locations in forty-one states.
Golden Corral helped Big Idea promote LarryBoy and the Bad Apple.
Ad blocker interference detected!
Wikia is a free-to-use site that makes money from advertising. We have a modified experience for viewers using ad blockers

Wikia is not accessible if you've made further modifications. Remove the custom ad blocker rule(s) and the page will load as expected.