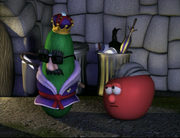 In some of Big Idea's shows, characters might often wear glasses that have a big nose with a mustache and bushy eyebrows. This is mostly because they're in disguise.
The glasses originated from comedian Groucho Marx of the group the Marx Brothers, who is famous for his signature glasses, big nose, and mustache.
Appearances
Gallery
Ad blocker interference detected!
Wikia is a free-to-use site that makes money from advertising. We have a modified experience for viewers using ad blockers

Wikia is not accessible if you've made further modifications. Remove the custom ad blocker rule(s) and the page will load as expected.