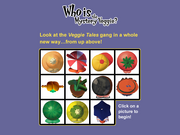 Heads Up!
is a game from the official website.
Plot
How to Play
Characters to Choose from
Hints about the character
Jimmy Gourd

He wanted his money back after watching Larry's "Song of the Cebú".
Like his brother, he likes to eat a lot. Good thing he runs an ice cream parlor!
His brother's name is Jerry.

Lenny Carrot

At Christmas time, he wanted TEN Buzz-Saw Louie toys.
Junior Asparagus accused him of feeding a bowling plate to a crocodile.
His sister is Laura Carrot.

Junior Asparagus

The Grape family called him a "cheese-headed bean boy."
His dad calls him "little mister."
He learned an important lesson about lying when a giant space alien grabbed him.

Bob

He taught Junior Asparagus that "God is bigger than the boogie man!"
He gave away Larry's hairbrush.
He's one of the co-hosts of VeggieTales.

Rosie Grape

Do you know what 70 times 7 is? She does.
She made fun of Junior Asparagus, till she learned it was wrong to tease others.
Her brother's name is Tom.

Grandpa George

He's Annie's grandpa.
He's Dinkletown's mailman in The Toy That Saved Christmas.
This scallion was also the gatekeeper of the Nezzer Chocolate Factory.

Annie

Shelby Vischer performs her voice.
She was thankful for the sun in her sky, her mom and her dad, and her piece of apple pie.
She's George the scallion's granddaughter.

Madame Blueberry

She enjoys shopping.
She is the mayor of Bumblyburg.
She learned that "a thankful heart is a happy heart", but lost her house in the process!

Larry

He cried a lot -- and drank a lot of milkshakes -- in Silly Sing-Along 2.
His secret identity has super-suction ears!
He co-hosts VeggieTales, with Bob the Tomato.

Jerry Gourd

He loves popcorn balls.
He starred in Mr. Lunt's love song, "His Cheeseburger".
His hungry brother is Jimmy Gourd.

Scooter

He played one of the Israelites in Josh and the Big Wall!
He's the local police officer in Bumblyburg.
He got his VeggieTales start as the chief engineer of The USS Applepies. 
Trivia
"Heads up" is used as an informal warning, caution, or call for attention.
The game is no longer available after the website was revamped. However, the game can still be found at Internet Archives.
External link
Ad blocker interference detected!
Wikia is a free-to-use site that makes money from advertising. We have a modified experience for viewers using ad blockers

Wikia is not accessible if you've made further modifications. Remove the custom ad blocker rule(s) and the page will load as expected.