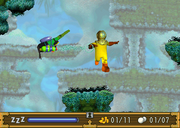 Here We Go, Scuba! was an online game from the official website
Plot
One of the Stuff-Mart salesmen is day-dreaming too close to the aquatics gear. Help him navigate the watery maze and collect all the hidden treasure. But watch out! You'll have to avoid the aquarium toys, or squirt 'em with a blast of water!
How to play
Use the arrow keys to move the salesman through the seacaves. Use the spacebar to shoot bubbles for defeating the toys and open treasures.
There is a sleepingbar to tell you how much time you have before it's over.
Trivia
The game's title and setting is based on the Stuff Mart Rap.
The game is no longer available after the website was revamped. However, the game can still be found at Internet Archives.
External links
Ad blocker interference detected!
Wikia is a free-to-use site that makes money from advertising. We have a modified experience for viewers using ad blockers

Wikia is not accessible if you've made further modifications. Remove the custom ad blocker rule(s) and the page will load as expected.