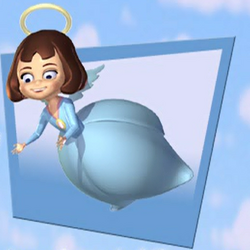 Hope
Species: Music box angel
Hair color: Brown
Hope is an Easter egg music box angel and the dueteragonist of An Easter Carol.
Bio
Hope was given to Ebenezer Nezzer by his Grandma around four decades when he was a young lad. She was the only memento from Nezzer's grandma.
Many years later when Nezzer was trying to build Easterland on where St. Bart's church is standing, Hope was awakened around midnight and she was trying to teach Ebenezer about the hope of Easter and what would happen if he tries to take it away.
After the destruction of the factory, Hope is given to Edmund.
Filmography
Fun Facts
Hope is similar to Angelique from "Beauty and the Beast", as they're both angels. The only differences are that Hope is a Easter egg music box, while Angelique is a Christmas ornament.
Ad blocker interference detected!
Wikia is a free-to-use site that makes money from advertising. We have a modified experience for viewers using ad blockers

Wikia is not accessible if you've made further modifications. Remove the custom ad blocker rule(s) and the page will load as expected.