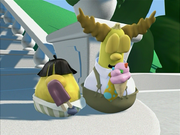 Ice Cream is a sweet, frozen food usually made from dairy products, such as milk and cream and often combined with fruits or other ingredients and flavors.
There are different types, such as soft-served, in a cone, a stick, and even types that don't actually use milk (eg. snow-cones)
Appearances
VeggieTales
VeggieTales in the House
Ad blocker interference detected!
Wikia is a free-to-use site that makes money from advertising. We have a modified experience for viewers using ad blockers

Wikia is not accessible if you've made further modifications. Remove the custom ad blocker rule(s) and the page will load as expected.