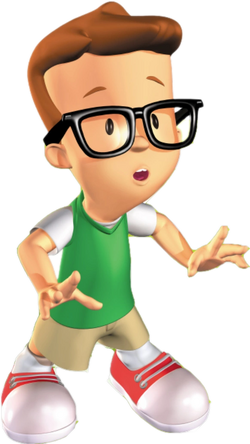 Jason T. Conrad
Species: Human
Gender: Male
Hair Color: Brown
Eye Color: Black
Jason T. Conrad is a seven-year-old boy who is a member of the Rockhopper crew from the Federation.
Bio
Jason lives with his parents and twin sister Michelle. He was planning to go to Space Camp, but had to get to his Grandmum's for the summer when their parents are going on a business trip.
Personality
Jason is smart and clever, and has a good sense of humor, but sometimes he can be selfish and bratty, too. He'd much rather be someplace else, but decides to make the best of things. He finds fun things to do, and has fantastic adventures with Zidgel and the entire Penguins crew!
Physical Appearance
Jason Conrad is a small boy (around 7 years old) with brown hair. He wears a green and white t-shirt with khaki shorts and red sneakers.
Filmography
Jason Conrad appeared in every episode of 3-2-1 Penguins!
Voice Actors
Quinn Lord (2006-2008, TV show only)
Patricia Azán (Spanish dub)
Fun Facts
Jason resembles Sherman from Rocky and Bullwinkle.
The official website before its revamp in 2002 states his favorite food is pizza with pepperoni and olives.
When Jason was little, he would often suck his thumb and hold a blanket.
He is the only member not to transform into another form.
His initials sound almost identical to James T. Kirk's initials.
Gallery