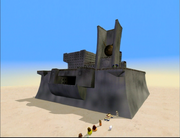 Jericho is the city in the Palestinian Territories and is located near the Jordan River in the West Bank.
Fun Facts
According to Phil, one of Joe Sapulich's designs of the wall was going to be extendable, which starts as a low wall and folds up to become bigger. This resulted it making it like a Transformer.
Ad blocker interference detected!
Wikia is a free-to-use site that makes money from advertising. We have a modified experience for viewers using ad blockers

Wikia is not accessible if you've made further modifications. Remove the custom ad blocker rule(s) and the page will load as expected.