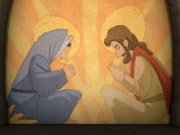 Jesus is the son of God.
Appearances/Mentions
Fun Facts
Phil Vischer stated that they'll never show Jesus physically in a VeggieTales episode, because it messes up the scale of portraying either Jesus as a talking vegetable, or to have humans interact with the veggie characters. This has been the policy for Big Idea since then. This was suggest by his mother Scottie May.

The only exception is if he appears as a glowing light.
Ad blocker interference detected!
Wikia is a free-to-use site that makes money from advertising. We have a modified experience for viewers using ad blockers

Wikia is not accessible if you've made further modifications. Remove the custom ad blocker rule(s) and the page will load as expected.