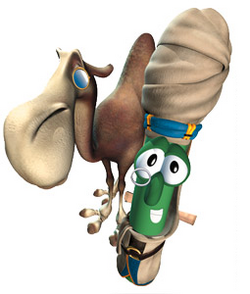 Jonah
Jonah is a prophet who delivers God's messages around the Middle East. He is also the titlar protagonist of Jonah: A VeggieTales Movie. He is played by Archibald Asparagus.
Bio
In his initial appearance, Jonah tells the people of Joppa a message from God about encouragement (eg. be nice, don't eat nasty things, etc.). One night, however, his lord tells him that he must go to Nineveh to tell the people there to stop their mean ways. Jonah never really liked the ninevites, so he decided NOT to be obey God, and decides to run away from Him. He plans on going to Tarshish with the help of the Pirates Who Don't Do Anything.
Development
When finding out who Jonah would be, the team though that Archibald shouldn't be Jonah since he wasn't deemed as a main character in the series. Larry was considered but was scrapped because he doesn't get serious, Bob was then a consideration since he's serious but since the story of Jonah ends with Jonah not learning the team didn't feel right about Bob not learning anything. At one point, Junior was even considered which didn't make sense at all. At the end, the team had no choice but to go with Archibald.
Filmography
Fun Facts
He is the first biblical figure in the series to have a downer ending.
He was mentioned on a trivia question in Josh and the Big Wall!.