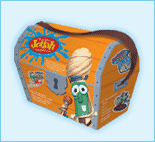 Jonah: An Overboard Adventure!
is a VBS (Vacation Bible School) curriculum created to promote
Jonah: A VeggieTales Movie
, as well as a complete program that teaches everyone how to walk in God's ways by using the book of Jonah as its framework. It was released October 2001.
Trivia
This website is no longer available after the Big Idea website was revamped, but it's available in the Internet Archives.
External links
Ad blocker interference detected!
Wikia is a free-to-use site that makes money from advertising. We have a modified experience for viewers using ad blockers

Wikia is not accessible if you've made further modifications. Remove the custom ad blocker rule(s) and the page will load as expected.