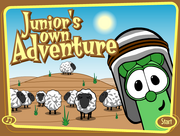 Junior's Own Adventure was an interactive storybook from the official website.
Plot
Dave the shepherd is watching over his father's hundred flocks of sheep, but then he noticed that one of them is missing, and he doesn't know what to do. Help Dave choose what choices to make in order to find the lost sheep.
How to play
Read the story, and when you're asked to make a choice, do your best! If you can't find the lost sheep, just try a different route next time.
Fun Facts
Trivia
This story is based on Jesus' "Parable of the Lost Sheep" from the New Testament.
The game is no longer available after the website was revamped. However, the game can still be found at Internet Archives.
The song in this game is the instrumental version of Big Things Too from Dave and the Giant Pickle.
Remarks
Despite the title, the game is about Dave.
Goofs
If Dave chooses to sleep in the cave, he is back on the hill.
Ad blocker interference detected!
Wikia is a free-to-use site that makes money from advertising. We have a modified experience for viewers using ad blockers

Wikia is not accessible if you've made further modifications. Remove the custom ad blocker rule(s) and the page will load as expected.