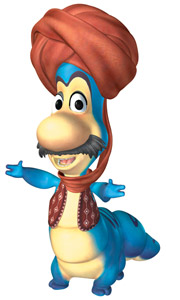 Khalil
Species: Caterpillar
Hair color: Black
Khalil is a recurring character from VeggieTales.
Bio
Physical Appearance
Development
Khalil is based after the worm who ate the plant God gave to Jonah when he watches over Nineveh. Phil's original concept of Khalil was to be just a worm like in the original story, but disliked it after seeing concept art as he looked too much like a snake. So they changed it to a caterpillar, though they kept the worm concept as he's a hybrid.
Voice Actors
Filmography
Click here to see his filmography.
Fun Facts
He is the first character to have colored irises.
Ad blocker interference detected!
Wikia is a free-to-use site that makes money from advertising. We have a modified experience for viewers using ad blockers

Wikia is not accessible if you've made further modifications. Remove the custom ad blocker rule(s) and the page will load as expected.