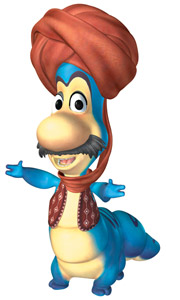 Khalil
Species: Caterpillar
Hair color: Black
Khalil (mistakenly called "Carlyle" by Jonah) is a recurring character from VeggieTales. He made his debut appearance in Jonah: A VeggieTales Movie.
Physical Appearance
Khalil is a half caterpillar and half worm. He has black hair, black eyes, and a black mustache. His body is blue-pale, and he wears a red vest.
Development
Khalil is based after the worm who ate the plant God gave to Jonah when he watches over Nineveh. Phil's original concept of Khalil was to be just a worm like in the original story, but disliked it after seeing concept art as he looked too much like a snake. So they changed it to a caterpillar, though they kept the worm concept as he's a hybrid.
Voice Actors
Filmography
Click here to see his filmography.
Fun Facts
He is the first character to have colored irises.
He is the first recurring character to be introduced in the movies.