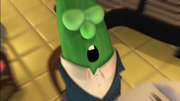 Throughout VeggieTales' history, Larry is always seen with his signature tooth. However, there are some times he'll be seen without it, usually in a scene or two. This is one of the common animation mistakes. Woah.
Mentions
Are You My Neighbor? - Larry states popcorn with cheese gets stuck on his tooth.
Happy Toothday - The entire Silly Song is about Larry's only tooth, and to celebrate Toothday, he gives his tooth some "tooth buddies".
Bob's Bad Breath - Bob reminds Larry to buy a new toothbrush to brush his tooth, but he does not.
Missing his tooth
Ad blocker interference detected!
Wikia is a free-to-use site that makes money from advertising. We have a modified experience for viewers using ad blockers

Wikia is not accessible if you've made further modifications. Remove the custom ad blocker rule(s) and the page will load as expected.