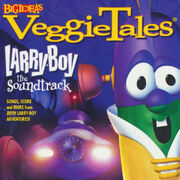 Larry-Boy: The Soundtrack
is an album encasing the first two LarryBoy episodes.
Tracklist
Cordial Greetings from Alfred
A Fib Falls and It's Laura's Fault
The Search and It's Lenny's Fault
The Fib Grows and the Water Tower
Junior Tells the Truth
Look Who's Here To Help
Bumblyburg Groove Remix
Superhero Slim-Down Mix
Thanks, But No Thanks
Rumor Weed Introduction
The Seed Is Planted and the Rumor Weed Spreads
Larry-Boy to the Rescue
The Sewer and Town Square
The Confession and the Bloom
It's The W's
The Rumor Weed Song (The W's)
Ta-Ta
Larry-Boy
Ad blocker interference detected!
Wikia is a free-to-use site that makes money from advertising. We have a modified experience for viewers using ad blockers

Wikia is not accessible if you've made further modifications. Remove the custom ad blocker rule(s) and the page will load as expected.