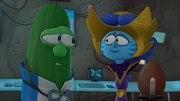 The cucumber and rhubarb's relationship is often good, even if Larry gets onto Petunia's nerves. While they are occasionally affectionate toward one another, their relationship is most often strained, especially in VeggieTales in the House.
Together
Offending
Against
Fun Facts
Ad blocker interference detected!
Wikia is a free-to-use site that makes money from advertising. We have a modified experience for viewers using ad blockers

Wikia is not accessible if you've made further modifications. Remove the custom ad blocker rule(s) and the page will load as expected.