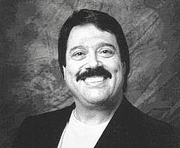 Lee Marshall (born as Marshall Aaron Mayer on November 28, 1949 in Los Angeles, California, - April 26, 2014) was a American wrestler announcer for American Wrestling Association, World Championship Wrestling and Women of Wrestling. He was also the voice for Tony the Tiger of Kellogg's Frosted Flakes, replacing Thurl Ravenscroft.
He narrated the episodes for LarryBoy: The Cartoon Adventures.
He passed away on April 26th, 2014 due to esophageal cancer.
Voices
Ad blocker interference detected!
Wikia is a free-to-use site that makes money from advertising. We have a modified experience for viewers using ad blockers

Wikia is not accessible if you've made further modifications. Remove the custom ad blocker rule(s) and the page will load as expected.