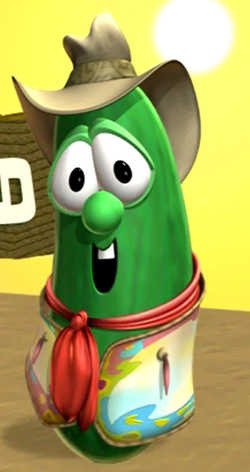 Little Joe
Joseph (commonly known as Little Joe) is the title character of The Ballad of Little Joe. He is played by Larry.
Bio
Little Joe is one Pa's sons, and he is considered his favorite. 
A year after he vanished from his home, Mr. McPotiphar bought him from the desperadoes and ended working at the Rootin' Tootin' Pizza Place in DodgeBall City. McPotiphar didn't know if he would be a good worker, but after helping making the place back on track, Joe became very helpful and loyal, and even became Employee of the Month. Just like his brothers, this caused the restaurant's performer Miss Kitty to be jealous.
The "Real" Little Joe
Little Joe is based on the biblical figure Joseph, who was one the sons of Jacob, and was the firstborn from his wife Rachel. He was Jacob's favorite, which caused his older brothers to be jealous of him, especially when Joseph received a coat of many colors.
Filmography
Little Joe only appeared in The Ballad of Little Joe, although he did appear in the flashbacks of Moe and the Big Exit and was mention.
Joe's real life counterpart appeared in illustrations of The Penniless Princess, protrayed by Jimmy Gourd.
Fun Facts
He is the only biblical figure character to receive a lot of costume changes.
Ad blocker interference detected!
Wikia is a free-to-use site that makes money from advertising. We have a modified experience for viewers using ad blockers

Wikia is not accessible if you've made further modifications. Remove the custom ad blocker rule(s) and the page will load as expected.