Merry-Go-Wreck
Director(s)
Writer(s)
Released

2003

Previous episode
Next episode

N/A
Merry-Go-Wreck is the fourth and final LarryBoy Super Short.
Plot
After Bok Choy demonstrates his class how to capture villains, he ask a student for a special assignment once class is over. Eager to help, Larry-Boy decides to do it, only to find out that he has to clean out chalk erasers. Classmates Lemon Twist and Electro-Melon offered the plunger hero that he can come to the amusement park with them after he's done with the chores.
Things go well at the amusement park, until both Lemon Twist and Electo-Melon started creating chaos at the various rides and games they interact (eg. merry-go-rounds, bumper cars, ring tossing), which lead them both arguing who should clean up the mess.
Larry-Boy eventually finished Bok Choy's assignment, and decides to head out to the park before his teacher would give him more to clean. He discovers the park is in complete shambles, thanks to the two bickering heroes. He stops the commotion and tells both Lemon Twist and Electro-Melon that they need to work together to repair the mess, and the two put aside their differences and help tidy up. They then produced both cotton candy and popcorn using their superpowers. After Larry-Boy compliment how great the food tastes like, the three superheroes laughed.
Fun Facts
Trivia
This short marks the first time for several things:

The first to focus on another character besides Larry-Boy.
The first time the college is seen in broad daylight.
The first that fits the lesson with the main episode, unlike the previous ones.
Remarks
The formula to capture villains is "X = Pi 2+ Y".
The sign states that the lesson is for night, even though it's daylight. Though it's possible Bok Choy was going to continue the lesson later.
Inside References
One of the words on the chalkboard is "Materialism", from the third episode.
Fast Forward
There would be an apple villain for the main Larry-Boy series.
Gallery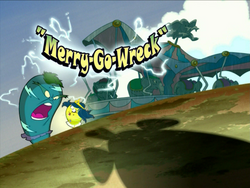 Ad blocker interference detected!
Wikia is a free-to-use site that makes money from advertising. We have a modified experience for viewers using ad blockers

Wikia is not accessible if you've made further modifications. Remove the custom ad blocker rule(s) and the page will load as expected.