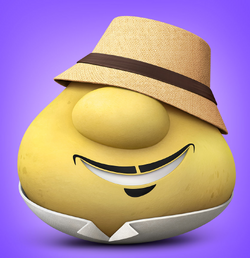 Mr. Lunt
Species: Gourd
Gender: Male
Hair color: Black (originally Brown)
Age: Unknown
Mr. Lunt is one of the main characters from VeggieTales. He is usually paired up with Mr. Nezzer.
Bio
In his first appearance, he worked alongside Mr. Nezzer at his chocolate factory, and follows every order he tells him to do. He later worked for his brother in Dinkletown when they planned to produce the Buzz-Saw Louie toys.
Physical Appearance
Mr. Lunt is a decorative gourd with a mustache. He often wears a beige safari-like hat and uses the brim for expression.
Filmography
Voice Actors
Fun Facts
Mr. Lunt is based after Smartass from the Toon Patrol from "Who Framed Roger Rabbit".

His name is based on W. Lunt Ave in Chicago according to Phil Vischer.

In almost every show he's in, Mr. Lunt has kept a mustache. The only exceptions were in Going Up! and Lord of the Beans.
He is the only main character to crossdress more than a few times.
He along with Pa and Tom Grape doesn't have exposed eyes like everyone else.
He was villainous in some episodes, but he was good in most episodes.
In Mr. Lunt's own love song His Cheeseburger, it was revealed that Mr. Lunt doesn't have any eyes whatsoever.
Phil stated on Twitter that the backstory of Mr. Lunt's golden tooth was that "it was part of his gangster outfit (even in his debut appearance) and it stayed with him."
Of all the redesigns, Mr. Lunt's is the most minor.
Gallery