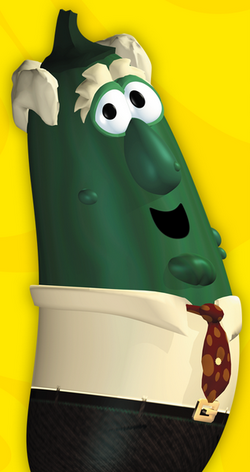 Nebby K. Nezzer
Species: Zucchini
Age: Unknown
Alignment: Good (mostly)
Neutral/Bad (temporarily; except he preforming as villain in serval films, but then reformed)
Nebby K. Nezzer is the recurring character from VeggieTales. He formerly plays the temporary main antagonist in the films, but outside of them, is a very nice person. He was replaced by the similar-looking Ichabeezer only in the VeggieTales in the House series and the VeggieTales in the City series.
Bio
In his debut episode, he and Mr. Lunt work at the chocolate factory.
Voice Actors
Fun Facts
A running gag the characters Mr. Nezzer plays since his debut is that they often run a factory.
Phil's inspiration for Mr. Nezzer's voice was that of Oogie Boogie from The Nightmare Before Christmas.
Mr. Nezzer in his original appearance was inspired by Nebuchadnezzar II from the original Biblical account of "Shadrach, Medshash, and Abedengo" from the Book of Daniel. His voice according to Phil Vischer was inspired by Ken Page as Oogie Boogie from the 1993 stop-motion film "The Nightmare Before Christmas".
Has had the most villainous roles out of all the characters, considering him the main antagonist of the series, even though he is actually a nice guy in real life.
He has very short minor roles in both VeggieTales movies.
Duke and the Great Pie War is the only time he worked for Mr. Lunt.
He often is paired with Mr. Lunt as villains, good guys, or just partners.
He is partners in "Sheerluck Holmes" and "Duke and the Great Pie War."
He is known for singing "The Bunny Song."
He was the bad guy in most episodes, but he was good in some episodes.
He seen was reformed in 4 episodes.
Gallery
See Mr. Nezzer/Gallery.