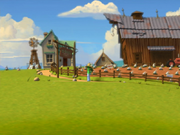 O' Gill's Dental Floss Farm is a farming business. It is run by Farmer O' Gill and his farm workers. They are best known for growing the best dental floss in the land.
Some of their flavored floss are original, cinnamon, and mint. It only appeared in The Wonderful Wizard of Ha's.
Trivia
Phil Vischer states in the commentary that this was inspired by Frank Zappa's "Montana".
Ad blocker interference detected!
Wikia is a free-to-use site that makes money from advertising. We have a modified experience for viewers using ad blockers

Wikia is not accessible if you've made further modifications. Remove the custom ad blocker rule(s) and the page will load as expected.