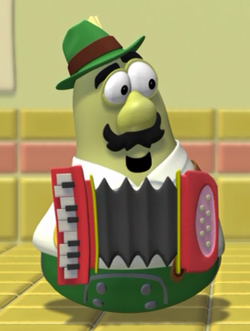 Oscar
Species: Yellow gourd
Hair color: black
Oscar is a recurring character in VeggieTales.
Bio
Oscar was first mentioned when Larry was talking about the time they're in lip rehab for six weeks. Larry never understood him due to Oscar only speaking Polish, but knew the word "usta". He later joined with Larry in a polka.
Physical Appearance
Oscar is a pale green Polish gourd who wears brown striped overalls and red striped tie with a white collared shirt. He also wears a brown hat and grows black hair, mustache, and eyebrows.
Fun Facts
Despite being Polish, he can be seen speaking in various accents. It is possible that Oscar can speak in different dialects since his appearance.
Ad blocker interference detected!
Wikia is a free-to-use site that makes money from advertising. We have a modified experience for viewers using ad blockers

Wikia is not accessible if you've made further modifications. Remove the custom ad blocker rule(s) and the page will load as expected.