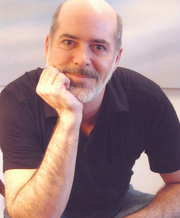 Page Hamilton Hearn (born December 2nd, 1959 in Baltimore, Maryland) was an American theater actor who voiced characters in 3-2-1 Penguins!.
He passed away on May 17, 2008 in Jersey City, New Jersey due to Myocardial infarction.
Voices
Fidgel (Direct-to-video episodes)
Trivia
Hearn based his voice of Fidgel on the White Rabbit from "Alice in Wonderland" as he used to played that character for a play before.
Works at Big Idea
Ad blocker interference detected!
Wikia is a free-to-use site that makes money from advertising. We have a modified experience for viewers using ad blockers

Wikia is not accessible if you've made further modifications. Remove the custom ad blocker rule(s) and the page will load as expected.