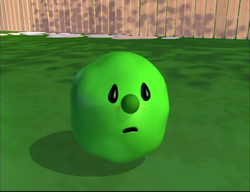 Percy
Percy Pea is a recurring character from VeggieTales. He is voiced by Phil Vischer, the show's creator.
Bio
In his debut, he resides in Dinkletown with his family. He was one of the kids, along with his younger brother who wanted the new Buzz Saw Louie toy. Then he moved to Bumblyburg. He is a good friend of Junior Asparagus.
Filmography
Fun Facts
Ad blocker interference detected!
Wikia is a free-to-use site that makes money from advertising. We have a modified experience for viewers using ad blockers

Wikia is not accessible if you've made further modifications. Remove the custom ad blocker rule(s) and the page will load as expected.