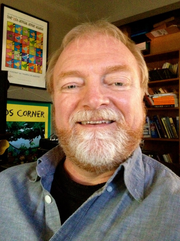 Phil Lollar is an American writer and and voice actor who works at Big Idea. He is one of the creators of 3-2-1 Penguins! and one of the creators to "Adventures in Odyssey". He also does various voices in US dub of "The Mr. Men Show", including Mr. Lazy, Mr. Small, and Mr. Strong. He is also currently working on the Disney XD dub of "Yo-kai Watch", alongside some of the actors from "The Mr. Men Show".
Trivia
In the ending credits of 3-2-1 Penguins!, his last name is slightly misspelled with an "e" instead of an "a".
Ad blocker interference detected!
Wikia is a free-to-use site that makes money from advertising. We have a modified experience for viewers using ad blockers

Wikia is not accessible if you've made further modifications. Remove the custom ad blocker rule(s) and the page will load as expected.