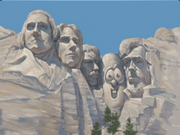 Presidents of the United States are mentioned and seen various times in the Big Idea universe.
Appearances
George Washington (1789—1797)
Abraham Lincoln (1861—1865)
Veggie Carnival - One of the costumes is Abe's iconic hat and beard.
Sheerluck Holmes and the Golden Ruler
Theodore "Teddy" Roosevelt (1901 - 1909)
Sheerluck Holmes and Golden Ruler
My Teddy Bear's From Where? - In this feature, Larry and Jean Claude explain to Sara about the origins of the teddy bear. It states the name came from Theodore Roosevelt.
John F. Kennedy (1961 - 1963)
Jimmy Carter (1977 - 1981)
VeggieTown Values - In the fifth segment, Larry mentions Jimmy Carter was a peanut. Bob later corrects him that Jimmy was a peanut farmer.
Miscellaneous presidential references
Ad blocker interference detected!
Wikia is a free-to-use site that makes money from advertising. We have a modified experience for viewers using ad blockers

Wikia is not accessible if you've made further modifications. Remove the custom ad blocker rule(s) and the page will load as expected.