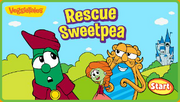 Rescue Sweetpea! is a game from the official website, based after Sweetpea Beauty.
Fun Facts
When this game was first released, the music that was playing was Ballad of the Pie War. However, it was switched to a never released song.
The game is no longer available after the website was revamped for the VeggieTales in the House style. However, the game can still be found at Internet Archives.
External links
Ad blocker interference detected!
Wikia is a free-to-use site that makes money from advertising. We have a modified experience for viewers using ad blockers

Wikia is not accessible if you've made further modifications. Remove the custom ad blocker rule(s) and the page will load as expected.